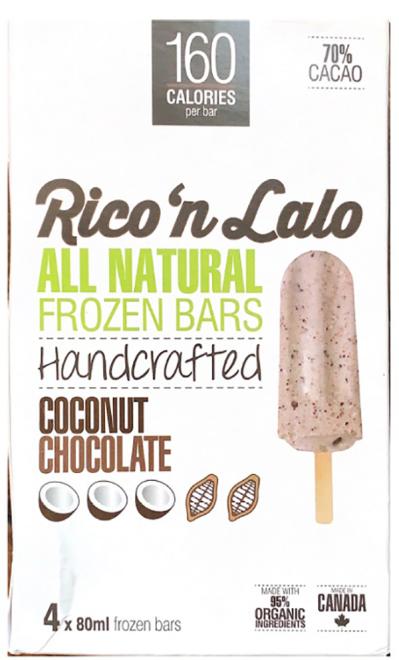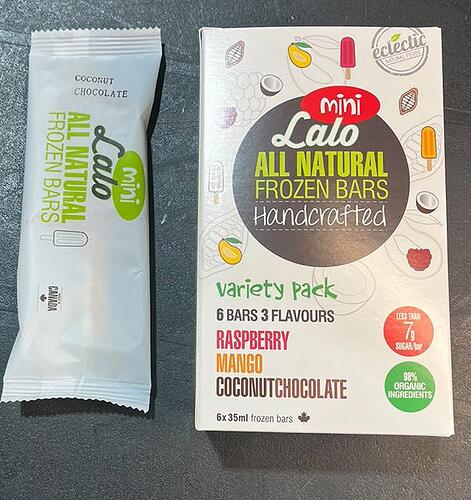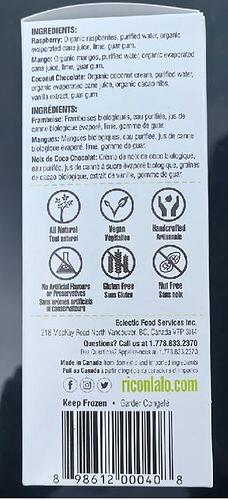 Photo credit: Health Canada
On Jun 1, 2022, Rico 'n Lalo brand issued a recall for their products -
| Brand | Product | Size | UPC | Codes |
| --- | --- | --- | --- | --- |
| Mini Lalo | Variety Pack Frozen Bars - Raspberry, Mango, Coconut Chocolate | 6 x 35 mL | 898612000408 | All packages sold up to and including June 1, 2022, where milk, hazelnuts and sulphites are not declared on the label |
| Rico 'n' Lalo | Coconut Chocolate Frozen Bars | 4 x 80 mL | 898612000194 | All packages sold up to and including June 1, 2022, where milk, hazelnuts and sulphites are not declared on the label |
Rico 'n Lalo brand is based out of Vancouver, British Columbia. They produce healthier alternatives to the treats with a fresh, tropical frozen fruit treat.
These products have been recalled due to undeclared multiple allergens - milk, hazelnuts and sulphites. Health Canada suggests to not consume products if you have an allergy or sensitivity to milk and/or sulphites.
This recall was prompted by a customer complaint. There has been a reported reaction in consumption to the product.
The recall is regional and affects Alberta, British Columbia, and Yukon. These products may have been distributed and sold in other provinces and territories.
You can search allergy friendly products at Flappd Canada and join allergy blog for allergy-related newsletter.
For more information related to the recall, visit Health Canada at https://recalls-rappels.canada.ca/.
Report an error in this post by emailing us at info@flappd.ca.