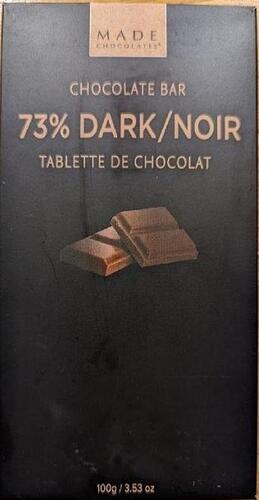 Photo credit: Health Canada
On Mar 10, 2022, Fielding Group Ltd. is recalling the following products-
| Brand | Product | UPC | Size |
| --- | --- | --- | --- |
| Made Chocolates | 73% Dark Chocolate Bar | 063891603514 | 100g |
| QC | 73% Cacao Dark Chocolate Extra | 063891603736 | 100g |
Fielding Group Ltd is a Canadian Specialty Food supplier, packager, and distributor of imported and domestic goods.
These products have been recalled due to undeclared milk allergen. According to Health Canada, "If you have an allergy to milk, do not consume the recalled products."
This recall was triggered by a complaint by the consumer.
There have been no reported reactions associated with the consumption of these products.
For more information related to the recall, visit Health Canada at Made Chocolates brand 73% Dark Chocolate Bar and QC brand 73% Cacao Dark Chocolate, Extra recalled due to undeclared milk - Canada.ca.
The recall is regional and affects region(s) - British Columbia, Ontario, Quebec.
These products have been sold in gift baskets and may be distributed to other provinces.
Report an error in this post by emailing us at info@flappd.ca. You can search allergy friendly products at Flappd Canada.