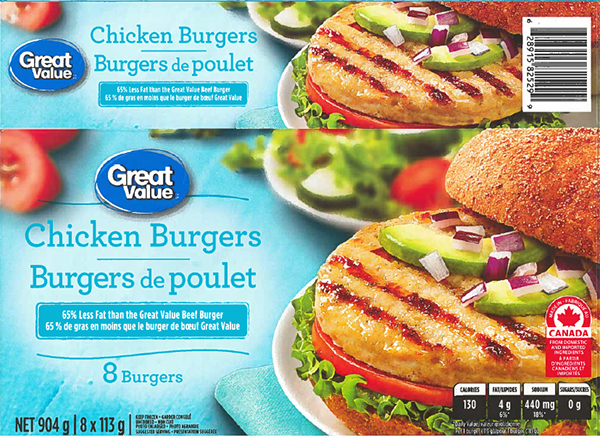 Photo credit: Health Canada
On Dec 3, 2021, Great Value brand issued a recall for their product - Chicken Burgers (UPC: Size: 904g, Best Before: 2022 MA 01, 2022 MA 27, 2022 JL 06, 2022 JL 12, 2022 JL 17).
Great Value brand products are easily and readily available at Walmart Canada locations.
The product has been recalled due to an undeclared Eggs allergen.
According to Health Canada, "Belmont Meat Products Ltd, is recalling Great Value brand Chicken Burgers from the marketplace because it may contain egg which is not declared on the label.
If you have an egg allergy, do not consume the recalled product."
For more information related to the recall, visit Health Canada at Great Value brand Chicken Burgers recalled due to undeclared egg - Canada.ca.
This recall is national in Canada and affects all regions.
Report an error in this post by emailing us at info@flappd.ca. You can search allergy friendly products at Flappd Canada.