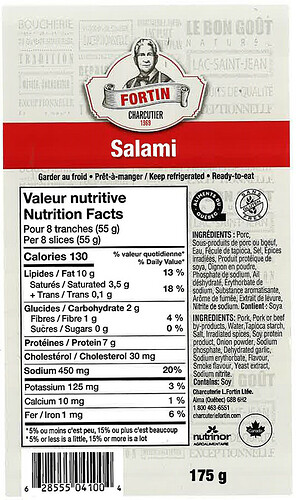 Photo credit: Health Canada
On Oct 23, 2021, Charcuterie Fortin brand, issued a recall for their product - Salami (UPC: 628555041004, Size: 175g).
The product has been recalled to the undeclared Wheat allergen. According to Health Canada, "Charcuterie Fortin brand Salami from the marketplace because it may contain wheat which is not declared on the label. People who have an allergy to wheat or have celiac disease or other gluten-related disorders should not consume the recalled product."
For additional information related to recall, visit Health Canada at Charcuterie Fortin brand Salami recalled due to undeclared wheat - Canada.ca.
The recall is national and affects region(s) - Quebec.
Charcuterie Fortin specializes in the processing of ham and cold meats while prioritizing the good traditional taste and the superior quality of its products.
Report an error in this post by emailing us at info@flappd.ca