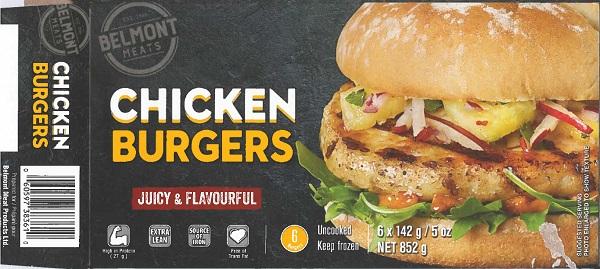 Photo credit: Health Canada
On Dec 10, 2021, Belmont Meats issued a recall for their product - Chicken Burgers (UPC:060597383610, Size: 852 g (6 x 142 g)).
Belmont Meat is based out of Toronto, Ontario. The brand offers great-tasting burgers with quality ingredients.
The product has been recalled to undeclared Eggs allergen. According to Health Canada, "If you have an egg allergy, do not consume the recalled products as they may cause a serious or life-threatening reaction. Recalled products should be thrown out or returned to the location from where they were purchased"
For additional information related to the recall, visit Health Canada at Great Value and Belmont Meats brand Chicken Burgers recalled due to undeclared egg - Canada.ca.
This recall is national in Canada and affects all regions.
Canadian Food Inspection Agency (CFIA) test results triggered this recall. There have been no reported reactions associated with the consumption of these products.
Report an error in this post by emailing us at info@flappd.ca.