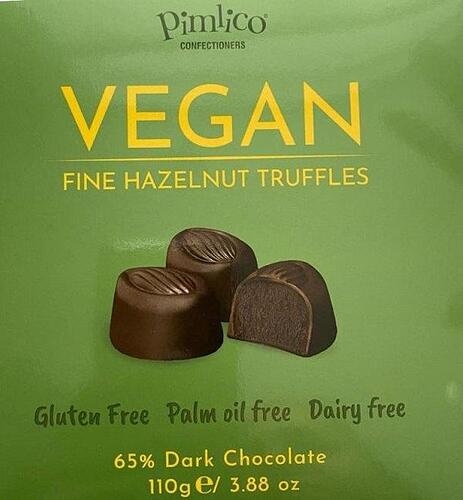 Photo credit: Health Canada
On Apr 27, 2022, Pimlico Confectioners, issued a recall for their product - Vegan Fine Hazelnut Truffles (UPC: 5 060380 694614, Size: 110g, Best Before End Date: 01/14/2024).
Pimlico confectioners, a brand based out of UK, sells products that are gluten-free and GMO-free.
This product recall is due to undeclared milk allergen. According to Health Canada, " If you have an allergy to milk, do not consume the recalled product."
The recall is national and affects all region(s) - Alberta, British Columbia, Manitoba, New Brunswick, Northwest Territories, Prince Edward Island, Ontario, Nunavut, Nova Scotia, Newfoundland and Labrador, Quebec, Saskatchewan, Yukon.
Report an error in this post by emailing us at info@flappd.ca.
You can search allergy friendly products at Flappd Canada.
For more information related to the recall, visit Health Canada at Find recalls, advisories and safety alerts - Canada.ca.